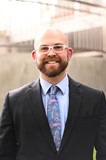 Doctor of Nursing Practice
Dr. Jace Nebeker, DNP, APRN, FNP-C
Dr. Jace J. Nebeker, DNP, APRN, FNP-C is a Doctor of Nursing Practice. Dr. Nebeker was born and grew up in Idaho Falls. He completed his master's degree and doctoral program from John's Hopkins University and The University of Vermont.
Dr. Nebeker enjoys giving back to the community; while attending Johns Hopkins, he volunteered with Project PLASE, (People Lacking Ample Shelter and Employment). His service included reviewing safety protocols, providing information to shelter staff about Non-Violent Crisis Intervention, and education on trauma informed care. His doctoral project at the University of Vermont was "A Standardized Web-based Nursing Curriculum on Safe Infant Sleep- A Vermont Statewide Initiative". This is an ongoing project started by Dr. Nebeker for Pediatric and Labor & Delivery Nurses who will use the training as an annual competency within the UVM medical system across the state of Vermont.
He is thrilled to be back in Idaho Falls with his wife and daughter. As an Idaho native, he enjoys time outdoors. He can often be found on a golf course or out on the river fly fishing.