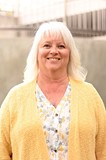 Nurse Practitioner
Paula Sanderlin
Paula Sanderlin is a Nurse Practitioner with the Idaho Falls Arthritis Clinic for over two years partnering closely with Dr. Craig Scoville. She received her Bachelors of Science in Nursing at Idaho State University and practiced in the hospital setting as well as home health for several years.
While working in home health she competed her Masters of Science in Nursing from Walden University. Paula is a Board Certified Family Nurse Practitioner licensed in Idaho and has completed the Advanced Rheumatology Certification. Paula is a native of Eastern Idaho and enjoys working with and caring for people in East Idaho and the surrounding areas.
Paula is a member of the Association of Rheumatologists and the American Association of Nurse Practitioners. She is married and enjoys spending time with her family camping, hiking, fishing, water sports and other outdoor activities.